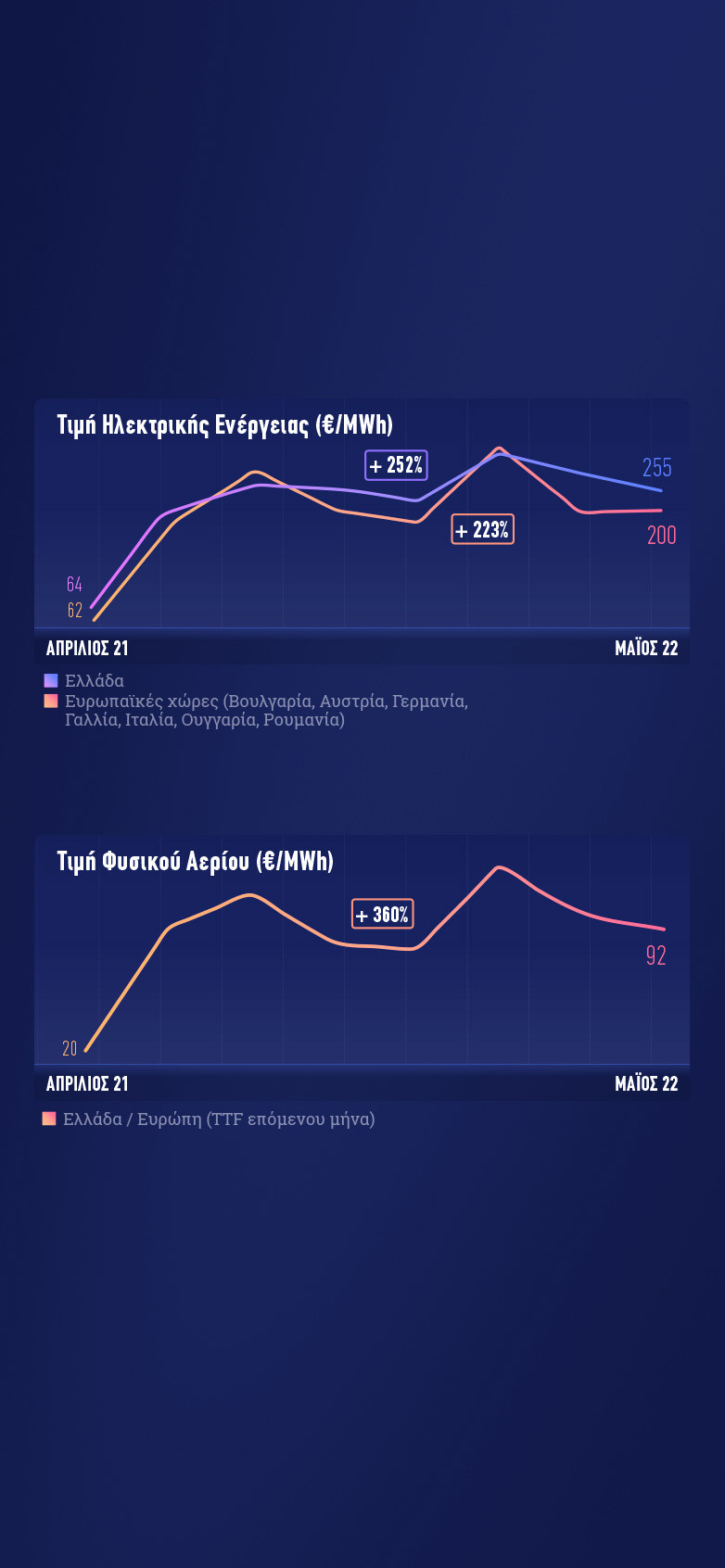 Why are energy prices rising (06/2022 update)?
We, at HERON, feel obliged to inform you about and explain the causes behind this unprecedented energy storm that the whole of Greek society is called to face.
What we are reading in the news - Electricity and natural gas prices are rising at an international level.
Over the past few weeks, as you probably already have heard on the media, the cost of energy is rising. The prices of electricity and natural gas have broken all previous records on a global scale. The cost of natural gas has increased fivefold, while the cost of electricity has tripled. It is currently estimated that prices will not drop before spring 2022.
What caused this increase in energy prices?
These unprecedented surges in energy prices are attributed to five causes:
Higher demand for energy. After the lockdown was lifted globally, the world returns to normalcy. The economies are recovering. Production and demand are gradually increasing. The demand, however, is rising faster than the supply of products. Industries and transports are incapable of meeting this rising demand and require greater amounts of energy, which leads to rising prices.
Difficulties in the supply of natural gas. In Greece, as well as in Europe, electricity is mostly generated from natural gas. Fuel quantities reach countries through pipes from Russia and Azerbaijan, or in liquefied form via tanker ships. 
A number of geopolitical reasons, combined with the lack of underground storage facilities for natural gas in our country and the failure of European countries to predict the increased demand, brought an unprecedented boost in energy prices.
Increase in prices of emission (CO2) allowances. Electricity prices are also influenced by the cost of pollutants which are emitted during the process of power generation. The industries that produce electricity are obliged to submit bids for emission allowances with regard to the environmental burden brought by energy generation.  The prices of CO2 allowances have tripled over the course of one single year.
The already problematic energy circumstances are further aggravated by climate change.
Last year's heavy winter has depleted the available natural gas reserves in Northern Europe. Their replenishment will place a burden on this year's demand.
The dry spell during the summer increased the needs for constant air-conditioning. At the same time, the reduced rainfall decreased the generation of electricity from hydropower plants.
In addition, due to winds of lower intensity compared to other years, we had smaller volumes of electricity generated from wind farms.
To cap it all off, the hurricanes in the Southern U.S. States led to a temporary suspension of natural gas exports, thus decreased its supply on a worldwide scale.
Delay in the transition to forms of less expensive "green" energy. If Greece and Europe had implemented the strategy of energy transition sooner and developed more projects on Renewable Energy Sources and energy storage systems, the problem of the energy crisis would be significantly smaller. 
How is the cost of energy related to my bill?
Energy bills are intrinsically connected with the prices of energy costs ("wholesale" prices). These are the prices paid by all energy suppliers, including HERON, for the natural gas and electricity we provide to our customers.
The cost of natural gas has increased fivefold, while the respective electricity costs have tripled; as a result, energy bills have gone up from all suppliers and for all consumers, both in Greece and in the wider region of Europe.
Will there be any further increase in energy prices during the winter?
It is predicted that prices will go up even more if the winter is heavy, due to higher energy demands in order to meet heating necessities. It is currently estimated that prices will not drop before spring 2022.
How does the State help in overcoming the energy crisis? 
The State has provided for a subsidization of partial price increases for the impending difficult winter period.  This will appear in the form of credits in electricity bills for consumption during the period from September up to and including December 2021.
How can I calculate the amount of state subsidy in my bill?
In fact, according to the announcements already made and the measures which are expected to be instituted by the State, you will notice that the amount of State subsidy will be different for the month of September than the months from October to December.  
More specifically, the State subsidy for electricity consumption for the month of September is €30/MWh and it is granted to consumers who have selected non-fixed tariffs. The State subsidy for electricity consumption for the months of October, November and December is €60/MWh and is one again granted to consumers who have selected non-fixed tariffs, while the subsidy granted to vulnerable citizens - who are eligible for and supported by Social Residential Tariffs - is equal to €80/MWh for their electricity consumption.
Find out more here.
What will HERON do for the rising prices?
HERON, acknowledging this unheard-of situation experienced by Greek society, provides alternative solutions through its programs and services, in order to limit the impact from the surging energy prices:
HERON applies the State subsidy from the very first day of its implementing, while at the same time continuing to apply all discounts provided by its commercial programs in order to reduce the energy costs of its customers.
It offers programs with a single price for the entire 24-hour day and 45% discount to all customers, without specific conditions and without any time commitments at all.
Home program UP4ALL
Business program UP4BUSINESS 1
HERON is the only company in Greece that currently provides the innovative tool HERON EN.A, which helps you counterbalance a significant part of the rising energy costs by using power generated from Renewable Energy Sources (RES) by TERNA ENERGY S.A.
I would like to benefit from everything that HERON offers. What should I do if I have a different supplier?
Fill out your details in the form and one of HERON's representatives will immediately contact you via phone or e-mail, according to the details that you register, in order to inform you about our programs.
I am having difficulties with paying. What are my options?
Let us all hope that this is merely a temporary disruption in the energy market, but if you trouble with being consistent with your bill payments, we can agree on a payment schedule (arrangement) that best suits your needs.
Are there any other ways I can reduce the amount of my bill? 
There are several small habits in your daily life that are capable of significantly reducing your electricity consumption. Energy saving, particularly for this winter, is more necessary than ever before in order to give you the opportunity to reduce your power bill. 
Read all our energy saving tips that you can apply at home or at your workplace.
We are continuing to keep daily track of all developments about the energy crisis and we will make sure to inform you about any and all latest news.
Thank you for trusting us.
HERON: Collaboration with Ambience in the context of the "Exoikonomo" energy saving program
The leading Energy Production and Supply Group, HERON, continues to invest in its strategy focused on the consumer and his needs, by launching its new collaboration with the specialized company Ambience Services within the "Exoikonomo" program.