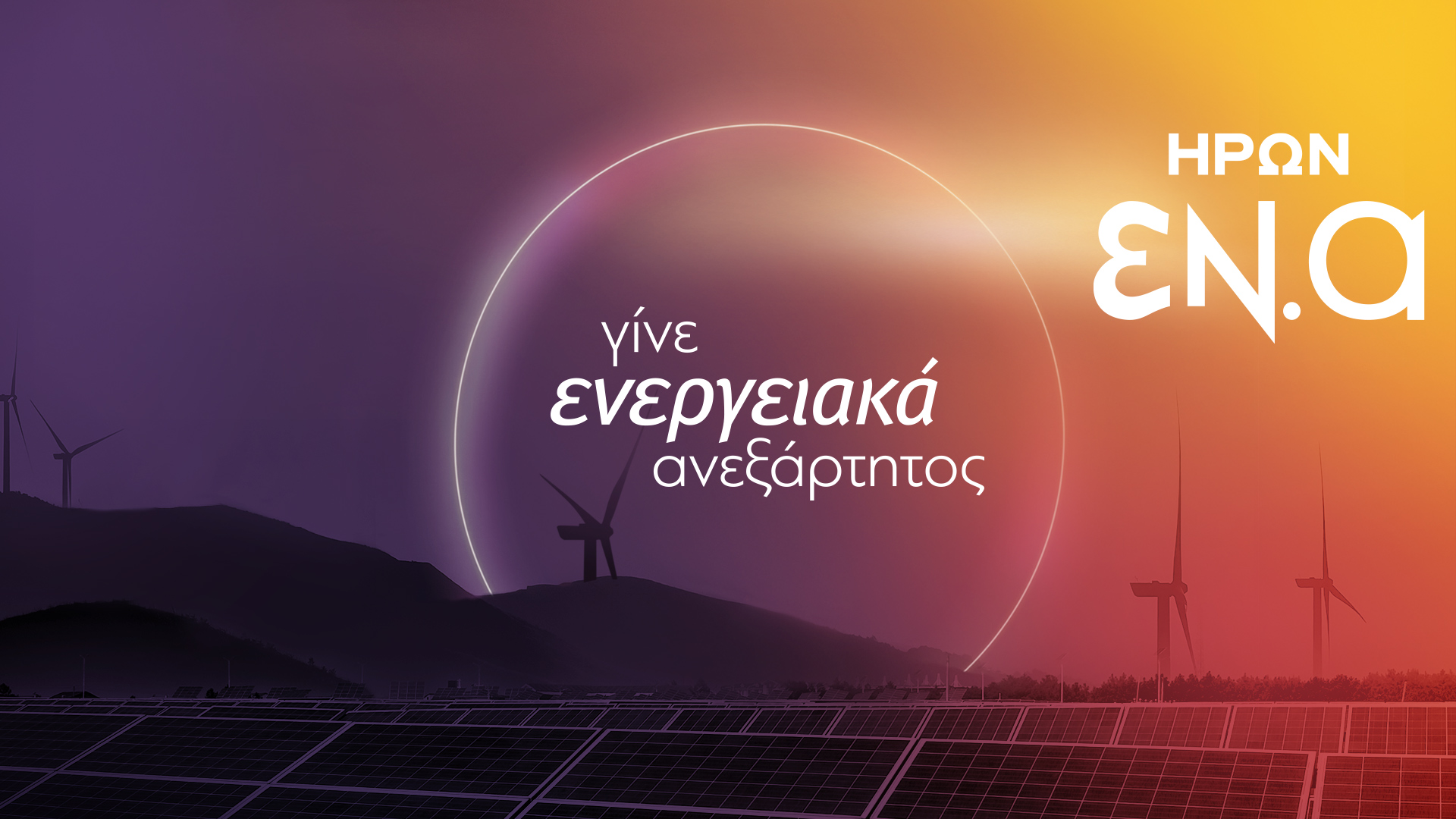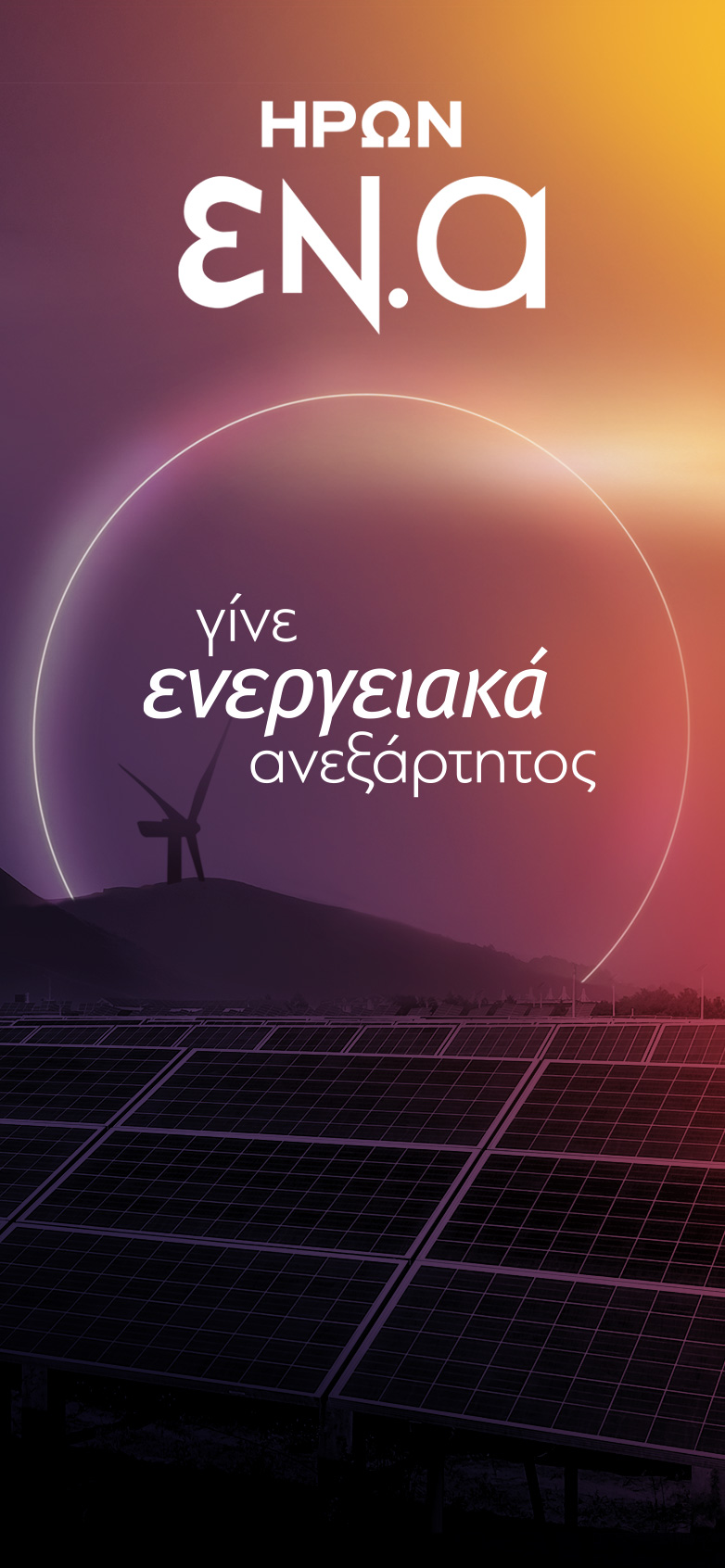 PROGRAM
HERON EN.A
The benefits of energy generation from renewable sources are no longer a privilege of the few. HERON makes the power of the sun and the air available to us all. HERON EN.A A program designed to offer all HERON Customers the opportunity to "produce" green energy, even going so far as to zero out their electricity supply charges.
Watch the video

With HERON EN.A., you "produce" the electricity you consume.
By participating in the HERON EN.A. Program, you "gain" a segment of energy produced by the photovoltaic power stations of HERON and TERNA ENERGY. The value (€) of the energy that is produced will appear as a discount on your bill. The greater your "investment", the greater the segment of energy production you will gain - therefore, the greater the discount you will be awarded on your bill. You can even reduce your electricity supply costs down to zero.
In the current energy market, your subscription to HERON EN.A will give you approximately 8.5% in returns.
Participation in HERON ΕΝ.Α
You can participate in the HERON EN.A program by paying the minimum participation fee of €100. You can afterwards increase your participation to the amount you prefer, at any time. 
HERON now offers you the minimum participation fee (€100) as a GIFT for one year.
Use the CALCULATOR  to work out the discount you will receive on your bill in proportion to the amount of your participation in the HERON EN.A program.
HERON EN.A puts a stop to the rising electricity rates!
The more the energy rates increase on an international level, the more the value of the energy you "produce" with HERON EN.A becomes greater. As a result, the "performance" of the program - that is, the discount you are awarded on your bill - increases. This way, you are protected from rising prices.
HERON EN.A can be combined with any commercial electricity program you choose.
Why participate in HERON EN.A?
To win very good returns on the capital with which you participate, through the discounts you will receive on your bill.
To be protected against increased electricity prices.
To gain the benefits of a photovoltaic system without actually having to install one!
To decrease your environmental footprint and become an active participant in the global clean energy revolution.
See your electricity supply cost decrease, even down to zero!
CALCULATE THE EN.A DISCOUNT ON YOUR ELECTRICITY!
You can easily and quickly calculate the discounts you will receive on your bill depending on the amount of participation in the HERON EN.A program.
Fill out the amount of your annual electricity consumption in ZERO BILL and see the participation amount that can even win you a zero bill!
*The average consumption of a 4-person household in a 130 m2 house amounts to 4,200 kWh/ year.
EN.A FAQs
Find here all the answers about the program HERON EN.A
What is the EN.A program?
EN.A is HERON's state-of-the-art innovative program that gives you ENergy Autonomy, which can go so far as to even lower the cost of your electricity down to zero.  EN.A allows you to "buy" production from Renewable Energy Sources (RES) and become your own "producer" of the electricity you consume.
HERON, in collaboration with TERNA ENERGY, the largest producer of energy from renewable sources (RES), builds solar power plants and wind farms, whose energy is offered to customers who participate in the program. All HERON subscribers are given the opportunity to participate in HERON EN.A, and "buy" from these plants and farms an amount of energy that is equal to the annual consumption of their power supply connections, in order to lower, even down to zero, the cost of electricity on their bills.
If you don't have a roof to install your own photovoltaic system and generate your own energy, or if you have a roof, but do not wish to handle the construction, operation and maintenance of a photovoltaic system, you can now come under HERON's roof. By participating in HERON EN.A, HERON will generate for you as much energy you need in order to ensure energy autonomy and lower, even down to zero, the cost of electricity on your bill.. 
HERON EN.A offers all consumers (with a low voltage power supply), regardless of whether they own or rent a property, single family house or apartment in a complex, or a store, with or without the ability to install a photovoltaic system, the opportunity to reap the benefits of electricity generation from renewable energy sources without having to pay for the installation, maintenance and insurance of such a system.
OK, I want to gain Energy Independence, too. What do I have to do?
The process is very simple! If you are already a HERON subscriber, all you need to do is:
Fill out your details

here

in order to be contacted by one of HERON's representatives.
Call us at 18228.
Visit a HERON store.
Talk to one of HERON's official associates
Visit a KOTSOVOLOS store.
Can I see a numerical example?
Sure thing! For example, if you are a household consumer and pay about €350 a year for your electricity (without regulated charges, municipal fees, Hellenic Broadcasting Corporation (ERT) fee, etc.), then, when your participation in the EN.A program will rise to approximately €4,000, you will enjoy free electricity for all the remaining years until the duration of the "economic life" of R.E.S. plants is completed - and this duration is 20 years at minimum, and it can even reach 25 years in certain cases.  Therefore, at the end of the program, the total value of your discounts will amount to approximately €9,000, which is equal to more than double your initial capital! And don't forget that you can pay this total participation of approximately €4,000 one step at a time, whenever is convenient for you, and gradually lower the cons of electricity on your bill down to zero!
In any case, you can use the CALCULATOR  in order to calculate for yourself the amount of your participation in the program, which will practically lower the cost of electricity on your bill down to zero! Otherwise, you can call us at 18228 or visit a HERON store and we can calculate this amount with you
What happens if I don't have enough money to buy the share which can reduce my electricity bill to zero?
Yet another advantage of HERON EN.A is the fact that you are given the ability to "build" the amount of your participation one step at a time, depending on your financial situation. The only difference is that the benefits will appear directly - and, more specifically, in the next bill you will receive! The minimum amount of participation in HERON EN.A is €100.
What happens if I change the address of my residence (or business address)?
The benefits of EN.A will follow you! Don't forget, thanks to HERON EN.A, you can enjoy all benefits and advantages of a photovoltaic system without extra costs, wherever you may go.
If I wish to terminate my contract or deactivate the EN.A program, what happens with the money I have paid?
There are no commitments whatsoever! The money you have paid will be refunded, after deducting the discounts from the bills you have already received during your participation in the program.